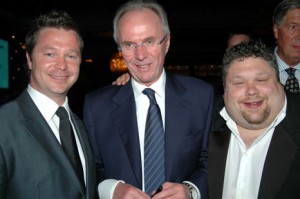 Bell and Spurling are Martin Bell and Johnny Spurling.
Probably the most talented duo you are likely to see, with two very soulful and powerful voices which has enabled them to carve out a great career within the music industry.
They have appeared on every national TV show from GMTV to This Morning and from MTV to News at Ten. They are most famous for their two appearances on Top of the Pops, performing their hit singles "Sven Sven Sven" and "Golden Balls", the two football anthems written about the England manager and of course David Beckham, which became cult status and sold over 350,000 singles, keeping them in the top 40 for over eight weeks.
They got together twelve years ago to combine their talents and perform at various functions all over the world from Lake Como to Las Vegas. They have a large celebrity following and have performed at parties for the likes of Manchester United footballers to pop stars such as Rod Stewart and Robbie Williams and even Simon Cowell. With a unique image that can only be described as chalk and cheese, they have also forged a career in comedy with their quick wit and unbelievable stage presence.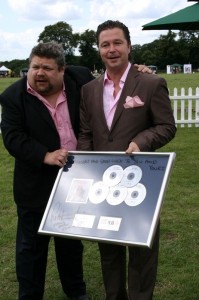 They are now regular guests on various radio shows from Talksport to Capital, and are currently piloting their own radio and TV show.
The boys continue to travel all over the world performing their live show, which includes various songs from the likes of Marvin Gaye, Elton John, Stevie Wonder and Frank Sinatra and not forgetting finishing with their very own hits, which is always well received.
Bell and Spurling's ability to host the evening as well as perform and sing is unique and has worked well for many large corporate events and live functions from Goldman Sachs to Saatchi and Saatchi along with major events like The Ideal Home Show and Grand Designs.